Restaurant Flurhof
Hungarian style
pork stew
with butter rice
and oven - baked pumpkin

Elbow macaroni, parsley black salsify
Meat origin: pork, Switzerland
Grill - fresh Gyros
with tzatziki sauce, French fries, cabbage, lettuce, feta - cucumber salad, tomato salad, bell pepper - olive salad, parsley - mint salad
Meat origin: pork, Switzerland
Grill - fresh Gyros
with tzatziki sauce, French fries, cabbage, lettuce, feta - cucumber salad, tomato salad, bell pepper - olive salad, parsley - mint salad
Meat origin: pork, Switzerland
Pizza "Chicken curry"
with a homemade tomato sauce,
mozzarella, curry chicken,
button mushrooms, onions & oregano

also available to take away!
Meat origin: chicken, Switzerland
Falafel
with a yoghurt - garlic sauce,
vegetable curry, grilled tomato,
oven - baked carrots
and mashed potatoes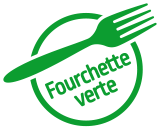 Price per 100g.
Assorted soups
Chicken broth
or
vegetarian potato soup
Meat origin: chicken, Switzerland
A variety of small desserts
Chocolate mousse
Madeira cake
Beetroot panna cotta
Upgrade menu
Fried lamb skewer kebab
with a green pepper sauce,
polenta
bell pepper & zucchini dish
Meat origin: lamb, Ireland, beef,Switzerland
Ribs & bacon
with a horseradish sauce,
parsley potatoes,
kale & sauerkraut
Meat origin: pork, Switzerland
It's spaghetti time!
with the sauce of your choosing: Bolognese, all'arrabbiata, gorgonzola or tomato sauce, cream & ham sauce, green pesto, plus grated cheese and chillies
Meat origin: pork & beef, Switzerland
A variety of small desserts
Chocolate mousse
Madeira cake
Beetroot panna cotta
Fried MSC zander fillet
with thyme, potatoes,
sauerkraut with cream
and diced bacon

Ebly and thyme cauliflower
Fish origin: wild caught, Russian Federation Meat origin: pork, Switzerland
Veggie Special
Aubergine stuffed with
hot cucumber - tomato ragout,
couscous, spinach leaves
and a yoghurt sauce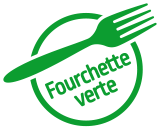 Large pork schnitzel
with a potato salad or French fries,
lemon wedge and ketchup,
salad from the buffet
or vegetable of the day
Meat origin: pork, Switzerland
Large pork schnitzel
with a potato salad or French fries,
lemon wedge and ketchup,
salad from the buffet
or vegetable of the day
Meat origin: pork, Switzerland
Tarte flambée
with ASC - certified smoked salmon, sour cream, red onions & chive
Fish origin: farm fish, Norway
Pasta mista
Assorted pasta
with "Napoli" sauce, basil pesto,
chilli oil and grated cheese
Assorted soups
Chicken broth
with root vegetables
or vegetable soup
Meat origin: chicken, Switzerland
A variety of small desserts
Chocolate mousse
Madeira cake
Beetroot panna cotta